HAIR EXTENSIONS BEFORE AND AFTER: MAGIC TRANSFORMATIONS
Are you tired of your hair looking the same every day? Do you want to experiment with new hair colors and styles? Hair extensions may be the solution you've been looking for! With hair extensions, you can completely transform your hair and achieve the look of your dreams.
In this article, we will share some amazing before and after transformations that have taken place at Emma Justine Salon.
Benefits of Hair Extensions
Hair extensions have become increasingly popular in recent years, and for a good reason. They offer a range of benefits that can help you achieve your desired look. Hair extensions can add length, volume, and thickness to your hair and give you the flexibility to experiment with new hair colors and styles. They can also cover up thinning or damaged hair and provide a quick and easy solution for special occasions.
At Emma Justine Salon, we use high-quality MEANT hair extensions to ensure that our clients get the results they want.
How Can Hair Extensions Transform Your Hair
Hair extensions can be used to completely transform your hair. With the right extensions and a skilled stylist, the possibilities are endless. Tape-in extensions are great for adding volume and length without damaging your hair. Clip-in hair extensions are perfect for experimenting with new hair colors or styles without making a long-term commitment. Crown hair extensions are a great solution for covering up thinning hair, and fusion hair extensions blend seamlessly with your natural hair. For the biggest transformations, we recommend hand-tied hair extensions that will make a big impact.
Check our website to learn more about the hair extension methods we offer.
Amazing Hair Transformations at Emma Justine Salon
At Emma Justine Salon, we've had the pleasure of helping many women achieve their dream hair. We decided to share some of our magical transformation stories with you.
Check the photos above and enjoy the magic transformations of our salon.
One of our clients had shoulder-length hair and desired to add both length and thickness to her locks. With the help of tape-in extensions, we were able to give her the long, voluminous locks she had always wanted. The transformation was incredible! Tape-ins made her hair look literally twice as long as before, and the added volume made it look so much thicker. She was so pleased with the result, and we were happy to have helped her achieve her dream hair.
To achieve the best results with tape in extensions, it is essential that the natural hair is not too thin, so the tape can be concealed under the hair.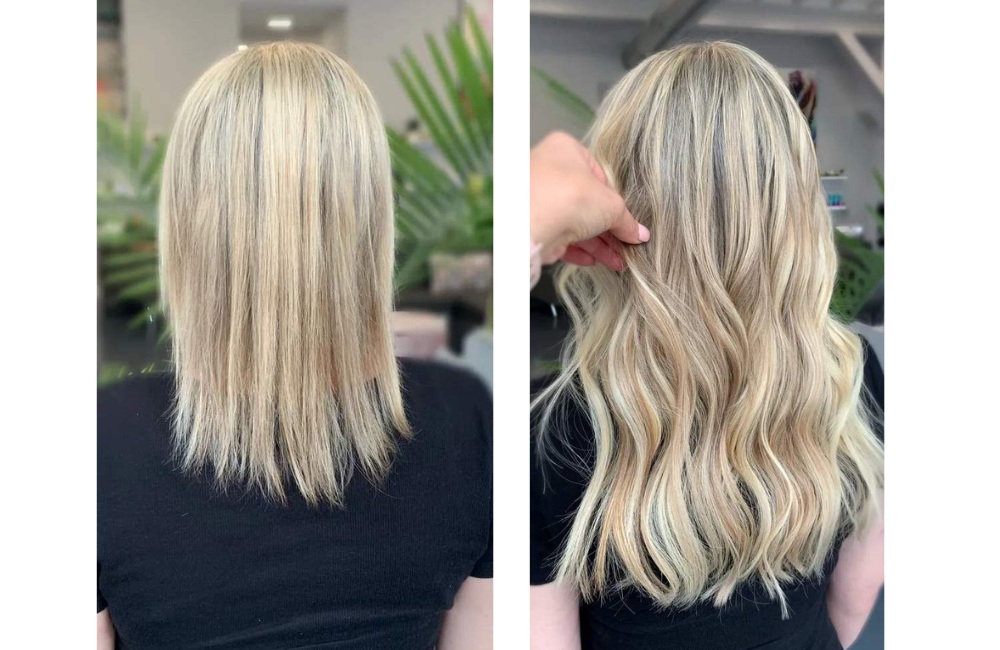 One of our clients had always struggled with thinning hair, which made her feel self-conscious. Customers with intermediate to advanced stages of hair loss have limited hair extension options. Luckily, we knew how to resolve her problem. Crown hair extensions were the perfect solution to add volume and give her the confidence boost she needed. The client left feeling thrilled with the result and more confident than ever before.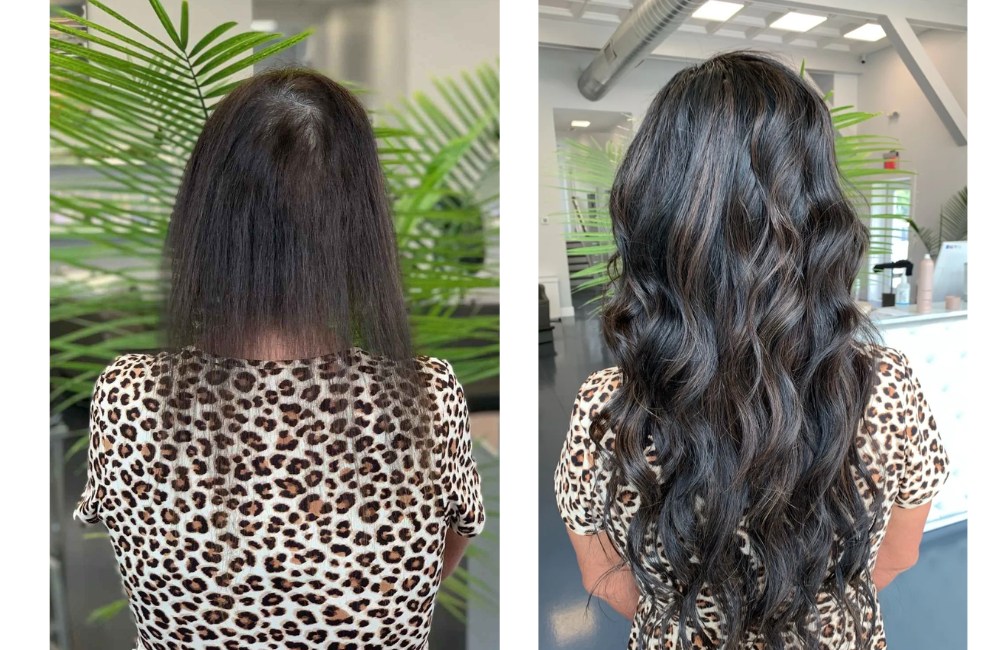 We recently made a complete transformation for one of our clients with fusion hair extensions. The client came to us with short, thin hair that she was struggling to grow out. When our client's hair is too short for hand-tied hair extensions, we usually recommend fusion hair extensions as a perfect solution.
Our expert stylists seamlessly blended the extensions with our client's natural hair, resulting in a stunning and natural-looking transformation. We pride ourselves on recommending the best hair extension options for our clients, and fusion hair extensions were the perfect choice for this client's dream hair.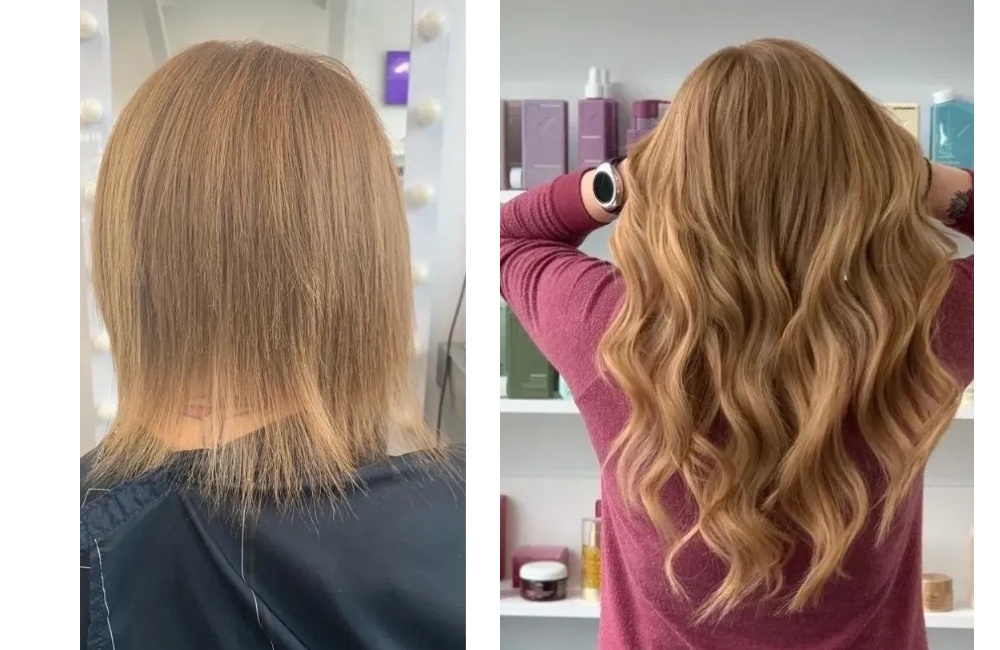 Finally, one of our clients wanted a subtle change that would make a big impact. We suggested hand-tied hair extensions, which are weft extensions that use a hand-sewn weft to attach the extensions to the natural hair. This method provides a long hair, natural, undetectable look and allows for the hair to be styled in many different ways. Check the pictures!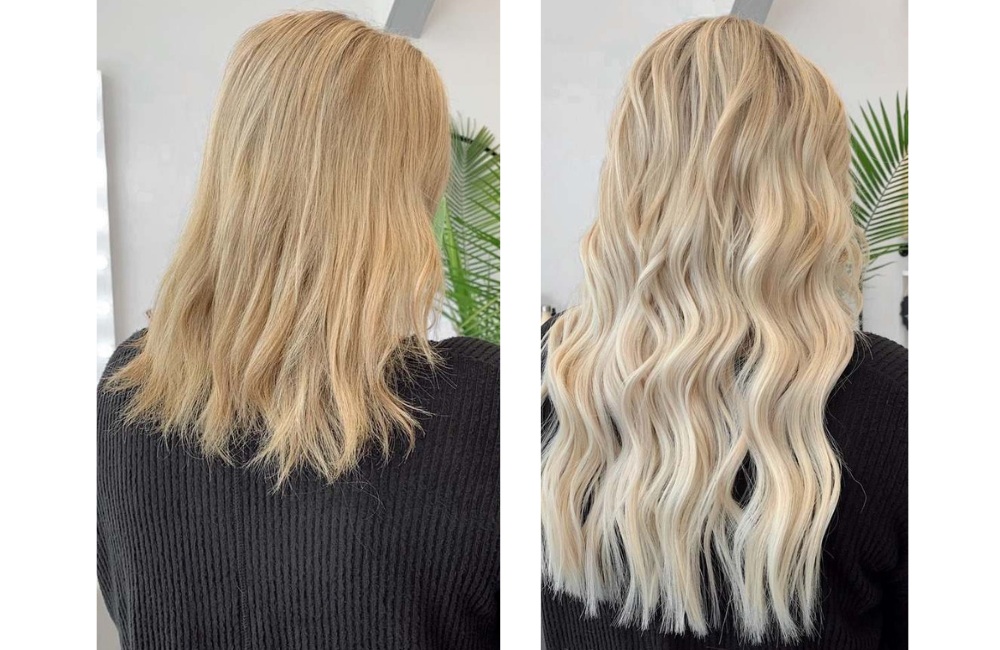 At Emma Justine Salon, we pride ourselves on offering one of the best hair extensions and hair transformation services in Louisville. Our team of skilled stylists will work with you to create the perfect look for your hair type and desired style. Feel free to contact us if you have any questions about the price or the best hair method for you. But before that, feel free to fill out the form. By submitting the form we gain insights into the best solution for how to achieve the hair from your dreams.